You are here:  

School News
6th Year Prize Giving 2021
5th Year Prize Giving 2021
test
3rd Year Prize Giving 2021
2nd Year Prize Giving 2021
1st Year Prize Giving 2021
Xmas Shoebox Appeal
Leo Kelly Scholarships
The Leo Kelly Scholarship is designed to benefit and assist the students of Largy College in their 3rd level education. The Scholarship provides financial support to students wishing to attend level 7 and 8 college / university courses. Three students are selected each year for the award. The scholarship is awarded for each year of academic study.
On Monday morning last, Adrian Kelly presented the awards to the three lucky students on behalf of the LEO Kelly Scholarship Trust. Under Covid-19 restrictions and social distancing, Adrian presented the students with a plaque to recognise their achievements, congratulated them on their success and wished them every success in their studies.
Congratulations to Chloe Donaghy, Jenny Freeman and Gráinne Clerkin on being awarded this year's Scholarships. Chloe is studying BSc (Hons) General Nursing in Letterkenny - LYIT, Jenny Home Economics & Irish in St Angela's College, Sligo and Grainne PE & Biology in Dublin City University.
L-R: Veronica Donaghy (on behalf of Chloe Donaghy, recipient), Sharon Magennis (Principal, Largy College), Jenny Freeman (Recipient), Adrian Kelly (Leo Kelly Scholarship Trust), Grainne Clerkin (Recipient) and John Deery (Year Head)
17% Over 500 points
Congratulations to all Largy College Leaving Certificate and LCA 2 students who received their results on Monday 7th September 2020. 17% of students achieved over 500 points. Jenny Freeman, daughter of Gabrielle and the late Martin Freeman, Newtownbutler Road, Clones achieved the top result in this year's Leaving Certificate.
The excellent results reflect both the ability and dedication that this cohort of students have demonstrated consistently over the last six years. A special thanks to the teaching staff, in particular, for their thorough and meticulous application to the calculated grades process, to school management, our Board of Management, Board of Governors and the unwavering support from parents.
To everyone in the class of 2020, best wishes and continued success in the future
Mayor Meets Ruth, Global Winner
Colm Carthy, Mayor of Monaghan spoke of the great pleasure he had meeting Ruth Madden today at Largy College, Clones - Ruth recently won the Gold Award in Physical and Engineering at the Hong Kong Global Youth Science and Technology Bowl. Colm Carthy, Mayor of Monaghan is a Sinn Fein Monaghan County Councillor from Carrickmacross and member of CMETB & numerous committees.
SciFest is Ireland's largest pre-college STEM fair programme. Fairs take place at local, regional, and national level. SciFest is inclusive and free to enter.
Gold Award in Hong Kong
Science Competition winner Ruth Madden, a student at Largy College in Clones, Co Monaghan, claimed the Gold Award in Physical and Engineering at the Hong Kong Global Youth Science and Technology Bowl. She had already won the SciFest National Final, sponsored by Science Foundation Ireland, for her project 'The Microplastic Filter – A Small Solution to a Global Problem'.

Ruth's work focused on reducing the volume of microplastics entering the environment through wastewater from domestic washing machines. She designed and constructed a filtration unit capable of intercepting microplastics as small as 0.1mm that can be retrofitted to existing standard domestic wastewater infrastructure.

Ruth said she was "delighted" to have won and said the award "does not just recognise my efforts" but is also an acknowledgement of the support and encouragement from her family and the staff of Largy College.

Two other Irish students - Timothy McGrath of Killorglin Community College, Co Kerry and Alice Shaughnessy, of Calasanctius College, Galway – also qualified for the Hong Kong event.

GYSTB is organized by The Hong Kong Federation of Youth Groups and was broadcasted live globally on 1 August. The competition attracted entries from 22 countries and regions across the globe. Ninety-three finalists were selected for online

judging. Two other Irish students succeeded in winning awards having qualified for the finals after winning at the 2019 SciFest National Final. Timothy McGrath from Killorglin Community College, Kerry won a first-place award in the Biology and Chemistry category and Alice Shaughnessy, Calasanctius College, Galway a third-place award in the Physics and Engineering category.


Ruth's Interview on News2Day
Saffron Science Competition
2nd year Science students who won the Saffron Science Competition
SHAW Youth Competition
Largy College, Transition Year Student, Christy Biji, scooped first prize at the prestigious Sexual Health Awareness Week, (SHAW), Youth Competition.
U16 Ladies Championship
Well done to our U16 Ladies who came out on top with a comprehensive win over Ballybay this week.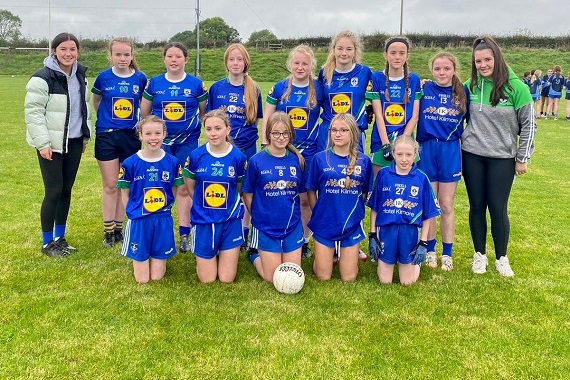 1st and 2nd Year Blitz
On the 13th of October, the 1st and 2nd year girls attended a blitz in Cloghan organised by Monaghan Gaa coaching staff. Well done to all our players, TY coaches and referees. The girls all had a great day.
3rd Year Boys Blitz
On the 5th of October, the 3rd year boys attended a blitz in Cloghan organised by Monaghan Gaa coaching staff. Well done to all our players, TY coaches and referees. The lads had a great day.
Áine Show-Jumping
Congratulations to Áine, a TY student, who took part in a interschools show jumping event in Meadows Equestrian Centre. She competed in the open individual's
The team had a good round, it was a very competitive competition with very big numbers in the classes.
Bronze for Molly
Congratulations to our 5th year student, Molly Coffey O'Connor.
Molly competed at the Talteanns Schools winning gold and bringing back the Talteanns cup by winning the most points for the Ulster girls team.
Molly qualified for the Irish team by winning the Talteanns. She then went on to compete in Derbyshire, England representing Largy College and Ireland. Molly competed against the top two discus athletes from England, Scotland and Wales. She went on to take the bronze medal setting a new pb of 35.64 metres in the process.
Monaghan Minor Ladies
Congratulations to Katelyn Greenan, in 6th year, who was part of the Monaghan Ladies Minor Team who won the Ulster Minor A title in 2021
Under 16 County Ladies - Ulster A Final 2021
Congratulations to Sarah, Amy Jo, Laura and Lily who where part of the U16 County team to win Ulster A Final 2021
TY Future Leaders
Well Done to our TY Future Leaders class who have continually worked online over the past few weeks and completed their modules. These students have now been certified with the Future Leaders Award. A great addition to their CV.
The "Future Leaders Transition Year Programme" is a joint initiative from the GAA and the Professional Development Service for Teachers (PDST). It is a cross-curricular programme comprising of a series of modules designed to encourage maturity, initiative, responsibility and leadership skills in pupils. The Programme gives pupils the knowledge and skills to support all roles required in the effective staging of Gaelic Games. As part of the Programme students are challenged to organise and run both on-field and off-field events for younger students
First Ulster Ladies School All Star Award
Largy College receive their first Ulster Ladies School All Star Award
Subcategories
The PE department in Largy College offers pupils the opportunity to experience a diverse range of activities which enables pupils to fully develop their range of physical, analytical and social skills. Over the course of their school life students will develop lifelong skills and a knowledge in all strands of PE. These include: Gymnastics, Dance, Net and Field Games, Invasion Games, Outdoor Adventure and Athletics.
Students can take part in a diverse range of extra-curricular activities such as Gaelic Football, Basketball, Athletics, Soccer, Futsol, Volleyball and Handball.