You are here:  

School News
Annual Admission Notice 2024/2025
Click here to download: Largy_College_Annual_Admissions_Notice.docx
We are a Microsoft Incubator School
We are thrilled to share some exciting news with all of you. Our school has been accepted as a Microsoft Incubator School.
Microsoft Incubator Schools are part of a prestigious program aimed at fostering innovation and digital excellence in education. This partnership will offer us access to cutting-edge resources, training, and support directly from Microsoft. Here's what you can expect:
Advanced Technology Integration: We will have access to the latest Microsoft tools and technologies, empowering both teachers and students to leverage digital resources for enhanced learning experiences.
Professional Development: Microsoft will provide specialized training and workshops for our teaching staff, helping us stay at the forefront of digital education.
Curriculum Enhancement: We will be able to integrate Microsoft's educational solutions into our curriculum, creating engaging and interactive lessons.
Collaboration Opportunities: Our school will have the chance to collaborate with other Incubator Schools, sharing best practices and innovative ideas in education.
Access to Experts: We'll have access to Microsoft experts who can provide guidance and support in implementing technology effectively in the classroom.
Largy College now joins a group of premier schools from around the world who are focused on expanding their digital curriculum. Over the coming years, teachers will become qualified as Microsoft Innovative Educator Experts and Microsoft Innovative Experts and will join an elite group of forward-thinking Educators globally. Being a Microsoft Incubator school places our students in a very advantageous position creating many possibilities for improved learning and prepares our young people for a wide variety of employment opportunities.
This is a fantastic opportunity for our school to stay at the forefront of educational technology and provide our students with the best possible learning experiences.
3D 360 Virtual Tour of Our School
Attention Parents and Students for the September 2021 Intake to Largy College. We have now launched our new website, Promotional video (ON HOME PAGE OF WEBSITE)- and now a groundbreaking 360 Virtual tour of our modern, state of the art facilities.
1st Year GAA Blitz
Our TY Future Leaders Class organised a Gaelic Blitz for our first year students. A fantastic display of skill, tacking, goal keeping and scoring was shown throughout. Tyrone and Dublin were the two teams to compete in the cup final. The final came right down to the wire, well done to Dublin who came out on top after a penalty shoot out.
A huge thank you to our Future Leaders who organised the competition. The referees, managers, first aid, umpires and coordinators all displayed great leadership skills. A fantastic afternoon was had by all.
Click here for pictures from the day:
https://drive.google.com/drive/folders/1BC2JI75Qhk-AgTXBmzCjsZ0vqCHZhkG1?usp=sharing
Leaving Certificate & LCA Results 2023
Congratulations to our students who received their Leaving Certificate and Leaving Certificate Applied results today .
Special congratulations to Eoghan Molloy on achieving the top LC result in the school with 613 points and also to Ryan Smyth who achieved the highest LCA Result, with an overall grade of 96% (Distinction). Well done to students, their teachers and parents.
Bereavement Support Leaflets
Tribute to Kiea McCann and Dlava Mohamed
Largy College has paid tribute to students Dlava Mohamed and Kiea McCann.
Dlava Mohamed

Dlava was a student who would always have a warm smile and a gentle hello when she met you on the school corridor. Dlava's determination shone through in everything she did. She was hard working and resilient. She had settled in so well to the Clones area and the Largy College community and was an integral part of our Third Year group.

Dlava was a very moral young girl who had a strong sense of right and wrong and the courage of her convictions to express these.

Dlava was a gorgeous soul who radiated goodness. She expressed such love and devotion to her beloved family. Dlava showed great loyalty and compassion to her circle of friends and was someone they could rely on as a true confidant.

Dlava would have been going into Transition Year in September and was looking forward with excitement to all that was involved in this.

The Largy College school community is devastated by the tragic realisation that we will never witness the incredible potential of the amazing young woman she was destined to become, given her kind spirit and abundance of promise. May she Rest in Peace.

Kiea McCann

Kiea was frequently described as simply a lovely student to teach. Throughout her years attending Largy College she was always pleasant and courteous to her teachers and fellow students.

Kiea was a friendly, kind and warm-hearted girl, who always demonstrated a willingness to support others. She was never afraid to give up her time to help her peers. This innate loyalty made her a very popular classmate.

Kiea was a hardworking student and always worked to the best of her ability. She had a caring nature and possessed a love for children Kiea held family in the highest regard; she was a deeply family-oriented girl, adored by everyone. Kiea was looking forward to embarking on third level studies in Childcare at Cavan Institute, having completed her work experience in a local creche.

The Largy College school community is heartbroken by the loss of Kiea, a lovely girl with immense potential and zest for life. It is truly heartbreaking that she will never get to see her dreams come true. The sadness is profound and deeply felt. May she Rest in Peace.

Largy College will open a book of condolences for Keia and Dlava on Friday 04 August at the school from 9am - 1pm.
Support Services Contacts
Our school community is in mourning. We extend our deepest sympathies to the families of Kia and Dlava, and they will remain in our thoughts and prayers in the weeks ahead.
By way of additional support and services please note the variety of support services available to you and your family.
| | | |
| --- | --- | --- |
| Clones Family Resource Centre | 52919 | 086 1785710 |
| Clones Primary Care Centre | 58140 | |
| Monaghan Primary Care Team | 047 30400 | |
| GP Out of hours NEDOC | 1800777911 | |
| Largy College | 51132 | |
| Samaritans | 116123 (Day or Night) | |
| Aware | 1800 804848 | |
| Pieta House | 1800 247247 | |
| GROW | 0818 474474 | |
| IACP | 01 2303536 | |
| Parentline | 1890 92 72 77 | 01 8733500 |
| Mental Health Ireland | 01 284 1166 | |
| ISPCC Monaghan | 047 75860 | |
| Emergency | 999 | 112 |
Statement from CMETB / Largy College
The students, staff, Board of Management and parents of Largy College are in deep shock following the tragic accident that occurred on Monday 31 July.
Sharon Magennis, Principal of Largy College, said: "It is with profound sadness and grief that we have learned about the devastating accident that resulted in the untimely and tragic loss of two cherished members of our school community. We extend our deepest sympathies to the families and friends who have tragically lost loved ones. The other individuals involved in the accident also remain in our thoughts and prayers at this time."
"We extend our heartfelt gratitude to the emergency services and Gardaí who responded swiftly to the incident.
"Our priority now is the wellbeing and welfare of the students, parents and staff at this difficult time. The Largy College Critical Incident Team has met to coordinate a response and to enact the Critical Incident Plan.
"We are grateful to the public for their deeply felt expression of support and ask that we be given the time and space to concentrate on supporting those in the school community who are most in need."
Webinar for incoming first-year parents
Dear Parents,
There is a webinar for 6th class parents this coming Tuesday, the 20th of June from 7.00pm to 8.05pm, that you might find informative. The webinar is called Stepping Up to Secondary School and is intended to give you information to support your child with their transition to secondary school. There will be input from a school chaplain, a youth information officer, an adolescent psychotherapist and a quick look at the www.stepup.ie website also. Parents can submit questions, through chat at the webinar, or in advance to This email address is being protected from spambots. You need JavaScript enabled to view it.
The link to register is:https://event.webinarjam.com/register/90/n1m3vs1m
The webinar is free and is organised as part of the statutory Planet Youth project.
School Transport Scheme Update
Please see an update below in respect of the School Transport Scheme, which contains important information on closing dates and temporary closure of the Bus Éireann Family Portal.
Information for families regarding School Transport Payment
Process for 2023/24 School Year
Payments/Medical Card Details
Payment/child's medical card details for all pupils who wish to be considered for the allocation of a ticket for the 2023/24 school year must be submitted before 9 June 2023 On buseireann.ie/schooltransport. After this date, this will be a late payment and tickets are not guaranteed to eligible pupils.
Bus Éireann Family Portal Closure
Please note the Bus Éireann family portal will close for all applications and payments for a period of 3 weeks from 9 June 2023 to 30 June 2023 and it will not be possible to make a late application, or make a delayed payment or delayed entry of medical card details until the family portal reopens.
This is necessary so that Bus Éireann can process applications, arrange transport and to assess all applications and determine whether they are eligible or concessionary and to include Temporary Alleviation Measures (TAMS) as soon as possible for the 2023/24 school year. Bus Éireann plans to issue all eligible tickets from July.
Tickets will be issued to eligible students who have applied and paid/entered medical card details on time. After this allocation is complete, where seats are available, concessionary tickets will be issued.
Any application made after 28 April 2023, or any payment/medical card details submitted after 9 June 2023 will be late. Where this happens, eligible students are not guaranteed a ticket.
Bus Éireann has put in place a dedicated customer care call centre and a Contact Form on buseireann.ie/schooltransport to assist families specifically with School Transport queries during the busy summer period. Families that have queries can contact the call centre on: LoCall 0818 919 910. Operating hours are 09.00 – 17.00 Monday to Friday
If families have queries relating to transport for children with special educational needs) please contact School Transport Section, Department of Education at:
Email: This email address is being protected from spambots. You need JavaScript enabled to view it.
Phone: 057 9325469 or 057 9325466
Payments/Medical Cards
It is important to ensure that payments/child's medical card details are submitted for new applicants and also for pupils who have previously applied/availed of school transport and require a seat on a service for the 23/24 school year.
Children (who are eligible for school transport) with valid medical cards (GMS Scheme) are exempt from paying the annual charge, however their medical card details must be submitted before 9 June 2023.
Families are strongly urged to make sure that they pay/enter child's medical card details on time. Late applications made after 28th April 2023, or late payment after 9 June 2023 may mean that a ticket is not available.
To make your payment or enter your child's medical card details, go to buseireann.ie/schooltransport by Friday 9 June.
The Annual Charge for School Transport Services for the 2023/24 school year is set out below:
| | |
| --- | --- |
| Category of pupil | Annual Charge |
| Primary Eligible/ Concessionary pupil | €50 |
| Post primary Eligible/ Concessionary pupil | €75 |
| Maximum annual charge for families | €125 |
Eligibility
Children are eligible for transport at primary level where they reside not less than 3.2 kilometres from and are attending their nearest national school, and at post-primary level where they reside not less than 4.8 kilometres from and are attending their nearest post-primary school/education centre as determined by the Department/Bus Éireann, having regard to ethos and language.
Children who are eligible for school transport and who have completed the application and payment process on time will be accommodated on school transport services where such services are in operation.
Children who are not eligible for school transport, but who complete the application and payment process on time, will be considered for spare seats that may exist after eligible children have been facilitated; such seats are referred to as concessionary seats.
Because of the nature of concessionary transport for non-eligible children and the priority of providing places for eligible children, there may be an excess of demand over supply for concessionary places, in these cases Bus Éireann will allocate tickets for spare seats using an agreed selection process.
In addition, temporary alleviation measures will continue for the 2023/24 school year, pending completion of the school transport scheme review and this means that transport will be provided, where such services are in operation, for post-primary pupils who are eligible for transport to their nearest school and are attending their second nearest school/ post-primary centre and who apply and pay on time.
Pupils from Ukraine
Pupils from Ukraine who require school transport should not apply on the Bus Éireann family portal but should visit gov.ie/ukraine for details on how to apply. Please note that any pupils from Ukraine who are currently on school transport do not need to re-apply for the 2023/24 school year unless they have changed address or school.
School Transport Section
Department of Education
This email address is being protected from spambots. You need JavaScript enabled to view it.
Gov.ie/schooltransport
Video - TY 2023 Highlights
Dragons Den 2023
2023 Dragons Den
This year's Adrian Kelly, Dragons den took place on Tuesday the 16th of May, and saw 10 amazing mini companies battle it out on stage to be crowned winner. The companies involved were flyby diner by Shannon Wiggins, makes and bakes by Ceara by Ceara Monaghan, Emmas gems by Emma Flynn, RC clothing by Rihanna Corbett, grass magnet by Finn McGoldrick and James Doran, S'more Scents by Sophie Morgan, Ella Kierans, Oisin Kelly and Megan Smith, Awesome hair by Shauna McFadden, Ornagh Smyth and Rachel Donaghy, Crochet-it by Erin Connolly and Deirbhile Burns, Cobra Chess by Qais Beidoun and Duke Mbekwe and Baked by Eimear by Eimear McMahon.
TY European Trip - Italy
2023 European Trip to Verona, Venice and Lake Garda
Success at Scifest 2023.
Largy College win the DKIT Best Senior Life Sciences Project at Scifest 2023.
James Doran, Kylah Gormley, Karolis Rute, Donna Burns & Kevin Dapkus entered Scifest this year which took place in Dundalk IT on Tuesday 9th May. Schools from all around the region assembled in the Institute of Technology and set up their projects. The students then had to present their projects to several judges.
Congratulations to 5th year students Karolis Rute, Kevin Dapkus and Donna Burns who are after winning the Best Senior Life Sciences Project at Scifest@College today in DKIT on "A STEM Programme for Primary School teachers to ease the transition from Primary school Science to Junior Cycle Science".
Monaghan Enterprise Awards Success
Largy students had great success at the Monaghan Student Enterprise Awards last Tuesday the 14th of March. Students from Largy won the Junior, Intermediate and Senior Categories, along with special awards for Sustainability and Social Media. Chocolate explosion won the Junior Category with 4 first year girls producing and selling hot chocolate bombs. Spin n' Stitch took the intermediate category (https://instagram.com/spin.andstitch?igshid=YmMyMTA2M2Y=) which were seasonal ornaments made by two 3rd year students. Chapped (https://www.instagram.com/chapped_minicompany/) lip balm won the overall senior category, made and produced by a group of TY students. These 3 groups will now represent Monaghan in the National Final in Croke Park in May. This is the first time Largy will represent Monaghan in all 3 categories in the national final. There were also winners for Largy in other compeitions with Fly by Diner (https://www.instagram.com/fly_by_diner/) winning the sustainability award, and Baked by Eimear (https://www.instagram.com/baked.by.eimear/) winning the Social Media Award. Largy was also represented by Emmas Gems (https://www.instagram.com/_emmasgems/) and Ceara's Cake Jars (https://www.instagram.com/cearas_cake_jars_ty/). Well done to all students involved. We are very proud of all our mini-companies as they were up against some fierce competition and represented the school very well.
​
Chapped - Winner of Senior Category

Spin n' Stitch - Winner of Intermediate Category

Chocolate Explosion - Winner of Junior Category

Fly by Diner - Winner of Sustainaility Award

Baked By Eimear - Winner of Social Media Award

Ceara's Cake Jars

Emma's Gem's
Update on School Transport Application Process for 2023/24
Update Re: School Transport Application
As you are aware Bus Éireann operates the school transport scheme on behalf of the Department of Education. Applications for the next academic year are currently being received from parents. As we currently operate school bus services to your school, I am requesting your co-operation to forward the information below to families of pupils heading into 1st year in September 2023. It would also assist if you could display the information on your school's website or Facebook page. By doing this we will reach a much wider audience and applications could be received more timely in Bus Éireann.
For the 2022/2023 school year we received 1485 amount of applications for Co. Monaghan and currently we have received 550 new applications
Applications for School Transport for the new school year are currently open and can be accessed online at https://www.buseireann.ie/inner.php?id=522
Details of the scheme are also available on Bus Éireann's website and https://www.education.ie/en/Parents/Services/School-Transport/
The closing date for new applications is Friday 28th April 2023
Existing school transport applications will automatically roll over into the new school year
Payments or medical cards will be accepted from 3rd April 2023 until the 9th June 2023
------------------------------------------------------------------------------------------------------------------------------------------------------------------------------------------
Please click on the image to see information from Department of Education:
Transition Year Consent Form
All TY students have the opportunity to take part in The Be Well Programme and the YES Programme, which is scheduled to take place in the new year. Can I ask parents to click the link below to Sign the consent form for the Programme.
Showtime 2022
Scifest National Final 2022
Congratulations to 2nd year students, Dara Courtney, Sean Clerkin & Joshua Brandon who received their excellence in STEM (Science, Technology, Engineering and Mathematics) Award for their project "A Four Seasons Photovoltaic Self-Charging Rover – the Mars PSR". The project generated plenty of interest on the day from the judges, the general public and Richard Bruton, TD.
The students have been working on the Mars PSR for months and started by designing and making a protype using equipment found at home or in the lab. Then the second prototype design was completed on Solidworks. For the National Final Sean decided to impress the judges more by learning how to use a new CAD programme called Onshape to design the 3rd prototype of the Mars PSR. They decided to use solar cells on this design. Solar energy is often used to power space missions because it is the only source of energy that does not need to be launched with the spacecraft and can power the spacecraft for several years. Joshua ensured that the solar cells were working to power the PSR.
While relying on solar panels may seem risky in such a dusty environment on Mars but doing so lessens the amount of mass at launch, lowering cost and complication for the mission and therefore they decided to use solar cells, Joshua ensured they were wired up properly in order to function. It was decided that they needed to make some type of a vacuum system that would blow off the dust that clogs around the moving parts. NASA have had limited success themselves with this idea, but the students wanted to try something anyway and Dara made various protypes of hoover systems that could attach to a Mars Rover. The first two prototypes were designed to suck the dust from the Rover but the 3rd prototype for the final was reconstructed so that it would blow the dust from the solar panels. The finished design also included a microbit to take temperature, light intensity readings and a compass.
The project had already won the 'ESERO Discover Space Award' and 'Scifest 2022 Runner-Up Best Project Award' in Dundalk I.T back in April, when they were only in 1st year, which was a remarkablet. achievement.
Largy College Science Week 2022
Largy College Science Week 2022
For Science week the 1st year students completed a project based on one of the new Junior Cycle Learning Outcomes: 'Students should be able to design, build and test a device that transforms energy from one form to another in order to perform a function; describe the energy changes and ways of improving efficiency'. The projects were of an excellent standard. The winners from each class were presented with their trophies and the overall winner was presented with the perpetual shield. There was also a quiz for 1st years in their classes and various other activities with prizes given for all.
The 2nd year students completed a project based on one of the new Junior Cycle Learning Outcomes also: 'Students should be able to develop and use a model of the Earth-sun-moon system to describe predictable phenomena observable on Earth, including seasons, lunar phases, and eclipses of the sun and moon'. The projects were of an excellent standard with all students in the year producing finished pieces. The winners from each class and overall winners were presented with their trophies. There was also a quiz for 2nd years in their classes and various other activities with prizes given for all. Congratulations to all the winners of the quizzes –
Open Night 2022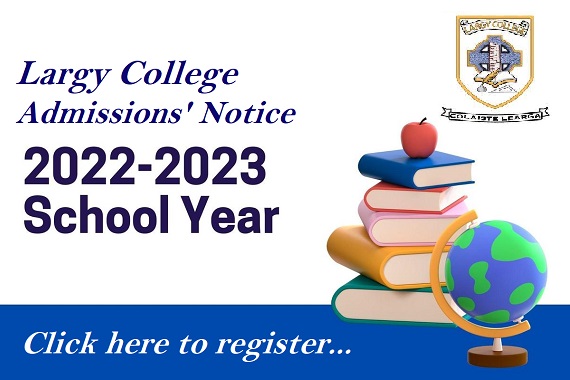 Largy College Annual Admissions Notice
- Admission Date Passed - Please contact the school -
Sports Day 2022
Stay Tuned for more pictures....
Leaving Certificate Results 2022
Congratulations to all Largy College Leaving Certificate and LCA2 students who received their results today.
22% of students achieved over 500 points. Tadgh Cosgrove achieved the top result of 590 points in this year's Leaving Certificate and Joe Maguire received the top LCA result.
Best Overall Result - Tadgh Cosgrove
Top 3 Results - Hannah Cooper, Tadgh Cosgrove and Chloe Brady

Students that achieved over 500 points - Back row: Ciara Gavan, James O'Harte, Aidan Leonard,

Keelin O'Grady, Tadgh Cosgrove, Chloe Brady. Front row: Megan Agnew, Hannah Cooper,

Hanna Gornyska, Leah Cosgrove, Alicia Greenan.

Top LCA result.
Photography Competition Winner
Well done to everyone who entered the Photography Competition through out the year. It was a great success, and we got some beautiful photo's in throughout each theme.
There was fierce competition, but one photo that stood out to all, and was the outright winner. The winner of the Photography Competition 2022 was Erin Connolly in 3rd year and recieved a Tablet.
Top 5 Chosen by the Staff and Students
Gaeltachta Fund
Monaghan GAA & from the DEIS Gaeltachta Fund administered by GRETB. We were very pleased that, for the first time, 10 of our students received full scholarships from the DEIS Gaeltachta Fund. Our students will be attending courses in Coláiste Bhríde in Rann na Feirste and in Coláiste Chara in Cill Chartha.
Bainigí taitneamh as an tréimhse sa Ghaeltacht!
#❤️An Ghaeilge
Leaving Cert. Graduation 2022
Well Done to all 6th year students that graduated on Thursday 26th of May.
1st and 2nd Year Prize Giving
Congratulations to all of today's prize winners. Well done on your achievements and hard work throughout the year.
1st Year Awards
2nd Year Awards
TY Graduation
Well Done to all Transition year students on their Graduation.
---
Scratch 2022 National Final WInner
Congratulations to Ciara Clerkin who won the 4th to 6th year category of the National Final of Scratch 2022 organised by the Irish Computer Society (ICS) which took place on Wednesday 18th May in the Computer Science Building of the University of Limerick.
Scratch is a visual programming language that encourages the development of essential coding skills through fun and interactive learning. It challenges students to create stories, games and animations using software. It encourages innovation and creativity while giving them a taste of possible future careers in the growing IT sector. Ciara made an educational game called Lieutenant Leek. This is a game that can be used by teachers and parents when trying to encourage healthy eating from the food pyramid with children. You play as Lieutenant Leek, a leek whose goal is to reach the top of the food pyramid to put a stop to the sugary foes wreaking havoc across the food pyramid. Each level is based on each stage of the food pyramid, which Leek needs to collect the daily requirements for. Sugar cubes block his path, he must knock them off the stage by shooting tomatoes at them to proceed!
Ciara was delighted with her win, "I plan to go to college next year to study computing and games development so I would like to express my gratitude to the The Irish Computer Society and Lero for running and sponsoring this competition because it has further inspired me to keep studying in the last few weeks of 6th Year towards my goal and it has encouraged me to make more games!".
Ciara was interviewed by two Scratch judges about her project, and she had to be prepared to answer questions about her game. Ciara's game generated great interest from other students at the competition and she had queues waiting to play it on the day which would have impressed the judges too! Congratulations Ciara, this was a remarkable achievement, and we wish you the best of luck as you prepare for your Leaving Cert exams in a few weeks' time.
Cuilcagh Boardwalk and Marble Arch Caves
TY Students enjoyed an adventurous day exploring the Marble Arch Caves. The amazing underground limestones caves in the Marble Arch Global Geopark are made from 330-million-year-old limestone and have several water reserves and rivers running through them. Scientists have explained this network of caves as a natural passage created when water dissolved the soft limestone rock of Fermanagh, from the Owenbrean, Aghinrawn and Shruh Croppa rivers of Ireland. This process also created stalactites and stalagmites within the caves; cone shaped rocks that have taken millions of years to form. For our TY Geography students this brought their studies of Limestone and Carbonation to life. Our students completed the afternoon with a hike of Cuilcagh Boardwalk Trail, also nicknamed the Stairway to Heaven Walk which is located in Co. Fermanagh. The route meanders through one of the largest expanses of blanket bog in Northern Ireland, traversing over tracks, boardwalk and staircase. A steep climb is required to reach the viewing platform on Cuilcagh Mountain which provides breath taking views of the surrounding low lands. All students felt a great sense of achievement and enjoyment with the completion of the day's activities.
Dragons Den
2023 Dragons Den
This year's Adrian Kelly, Dragons den took place on Tuesday the 16th of May, and saw 10 amazing mini companies battle it out on stage to be crowned winner. The companies involved were flyby diner by Shannon Wiggins, makes and bakes by Ceara by Ceara Monaghan, Emmas gems by Emma Flynn, RC clothing by Rihanna Corbett, grass magnet by Finn McGoldrick and James Doran, S'more Scents by Sophie Morgan, Ella Kierans, Oisin Kelly and Megan Smith, Awesome hair by Shauna McFadden, Ornagh Smyth and Rachel Donaghy, Crochet-it by Erin Connolly and Deirbhile Burns, Cobra Chess by Qais Beidoun and Duke Mbekwe and Baked by Eimear by Eimear McMahon.
---
2022 Dragon Den
Our TY students had the opportunity to showcase their enterprise talent in a Dragons Den Competition held in school. Students had to submit a business plan for their company and on the day present a power point presentation to the judges. Following the pitch, the Dragons had the opportunity to question the entrepreneurs on all aspects of their business before deciding which company they would like to invest in.
The judging panel comprised of Lisa Nolan from Aslan Business Coaching, Emmet Colleran of Colleran Accountants, Mark McArdle from McArdle Office Supplies, Shane O'Connor from Eldron Property & Adrian Kelly qualified solicitor and business coach.
First prize, a laptop, was won by Holly Agnew. Her company Sweet Sensations sells quality baking mixes. The product is a delicious bake at home Brownie-Mix, handmade and presented in a 0.5 litre glass jar. It makes for a wonderful gift for both adults and children alike and can be personalised to suit the customer's specific needs. Each jar comes with specified ingredient quantities and easy-to-follow instructions to ensure a successful experience.
Rachel Cooper and Niamh Crawley came second and won a tablet for their company Cozy Hats. This innovative company makes heatable hats that contain heat bags made from rivet wheat grains to keep the head and ears warm throughout the day and has a lavender scent that is used to reduce anxiety.
Rebecca Murphy also won a tablet when she was placed in third place for her company OakCrafts which specialises in producing handmade wood burned pieces of work and quality pet portraits using graphite pencils. Both the sketches and the wood have a varnish finish. Customers can request designs and/or quotes to be burned onto a piece of wood. The sketches are also done by request of a customer and will have a varnish finish with a frame included
Well done to our prize winners but also to the other 6 companies that competed. The standard was exceptionally high and as a result all 9 companies were awarded with gift vouchers to celebrate their hard work and participation.
Also Congratulations to Holly Agnew & Rebecca Murphy who both also won awards at the Student Enterprise Awards Monaghan. Holly won 'Best Presentation' for her company and Rebecca won Runner Up in the 'Innovation Awards' for her company. Finally, congratulations to Rachel Cooper who won an Intergenerational Award, in a competition led by the Age-Friendly University Office in Dublin City University.
Subcategories
The PE department in Largy College offers pupils the opportunity to experience a diverse range of activities which enables pupils to fully develop their range of physical, analytical and social skills. Over the course of their school life students will develop lifelong skills and a knowledge in all strands of PE. These include: Gymnastics, Dance, Net and Field Games, Invasion Games, Outdoor Adventure and Athletics.
Students can take part in a diverse range of extra-curricular activities such as Gaelic Football, Basketball, Athletics, Soccer, Futsol, Volleyball and Handball.