You are here:  

School News
Gaeltachta Fund
Monaghan GAA & from the DEIS Gaeltachta Fund administered by GRETB. We were very pleased that, for the first time, 10 of our students received full scholarships from the DEIS Gaeltachta Fund. Our students will be attending courses in Coláiste Bhríde in Rann na Feirste and in Coláiste Chara in Cill Chartha.
Bainigí taitneamh as an tréimhse sa Ghaeltacht!
#❤️An Ghaeilge
Photography Competition Winner
Well done to everyone who entered the Photography Competition through out the year. It was a great success, and we got some beautiful photo's in throughout each theme.
There was fierce competition, but one photo that stood out to all, and was the outright winner. The winner of the Photography Competition 2022 was Erin Connolly in 3rd year and recieved a Tablet.
Top 5 Chosen by the Staff and Students
Leaving Cert. Graduation 2022
Well Done to all 6th year students that graduated on Thursday 26th of May.
1st and 2nd Year Prize Giving
Congratulations to all of today's prize winners. Well done on your achievements and hard work throughout the year.
1st Year Awards
2nd Year Awards
TY Graduation
Well Done to all Transition year students on their Graduation.
Scratch 2022 National Final WInner
Congratulations to Ciara Clerkin who won the 4th to 6th year category of the National Final of Scratch 2022 organised by the Irish Computer Society (ICS) which took place on Wednesday 18th May in the Computer Science Building of the University of Limerick.
Scratch is a visual programming language that encourages the development of essential coding skills through fun and interactive learning. It challenges students to create stories, games and animations using software. It encourages innovation and creativity while giving them a taste of possible future careers in the growing IT sector. Ciara made an educational game called Lieutenant Leek. This is a game that can be used by teachers and parents when trying to encourage healthy eating from the food pyramid with children. You play as Lieutenant Leek, a leek whose goal is to reach the top of the food pyramid to put a stop to the sugary foes wreaking havoc across the food pyramid. Each level is based on each stage of the food pyramid, which Leek needs to collect the daily requirements for. Sugar cubes block his path, he must knock them off the stage by shooting tomatoes at them to proceed!
Ciara was delighted with her win, "I plan to go to college next year to study computing and games development so I would like to express my gratitude to the The Irish Computer Society and Lero for running and sponsoring this competition because it has further inspired me to keep studying in the last few weeks of 6th Year towards my goal and it has encouraged me to make more games!".
Ciara was interviewed by two Scratch judges about her project, and she had to be prepared to answer questions about her game. Ciara's game generated great interest from other students at the competition and she had queues waiting to play it on the day which would have impressed the judges too! Congratulations Ciara, this was a remarkable achievement, and we wish you the best of luck as you prepare for your Leaving Cert exams in a few weeks' time.
Cuilcagh Boardwalk and Marble Arch Caves
TY Students enjoyed an adventurous day exploring the Marble Arch Caves. The amazing underground limestones caves in the Marble Arch Global Geopark are made from 330-million-year-old limestone and have several water reserves and rivers running through them. Scientists have explained this network of caves as a natural passage created when water dissolved the soft limestone rock of Fermanagh, from the Owenbrean, Aghinrawn and Shruh Croppa rivers of Ireland. This process also created stalactites and stalagmites within the caves; cone shaped rocks that have taken millions of years to form. For our TY Geography students this brought their studies of Limestone and Carbonation to life. Our students completed the afternoon with a hike of Cuilcagh Boardwalk Trail, also nicknamed the Stairway to Heaven Walk which is located in Co. Fermanagh. The route meanders through one of the largest expanses of blanket bog in Northern Ireland, traversing over tracks, boardwalk and staircase. A steep climb is required to reach the viewing platform on Cuilcagh Mountain which provides breath taking views of the surrounding low lands. All students felt a great sense of achievement and enjoyment with the completion of the day's activities.
Dragons Den
Dragons Den
Our TY students had the opportunity to showcase their enterprise talent in a Dragons Den Competition held in school. Students had to submit a business plan for their company and on the day present a power point presentation to the judges. Following the pitch, the Dragons had the opportunity to question the entrepreneurs on all aspects of their business before deciding which company they would like to invest in.
The judging panel comprised of Lisa Nolan from Aslan Business Coaching, Emmet Colleran of Colleran Accountants, Mark McArdle from McArdle Office Supplies, Shane O'Connor from Eldron Property & Adrian Kelly qualified solicitor and business coach.
First prize, a laptop, was won by Holly Agnew. Her company Sweet Sensations sells quality baking mixes. The product is a delicious bake at home Brownie-Mix, handmade and presented in a 0.5 litre glass jar. It makes for a wonderful gift for both adults and children alike and can be personalised to suit the customer's specific needs. Each jar comes with specified ingredient quantities and easy-to-follow instructions to ensure a successful experience.
Rachel Cooper and Niamh Crawley came second and won a tablet for their company Cozy Hats. This innovative company makes heatable hats that contain heat bags made from rivet wheat grains to keep the head and ears warm throughout the day and has a lavender scent that is used to reduce anxiety.
Rebecca Murphy also won a tablet when she was placed in third place for her company OakCrafts which specialises in producing handmade wood burned pieces of work and quality pet portraits using graphite pencils. Both the sketches and the wood have a varnish finish. Customers can request designs and/or quotes to be burned onto a piece of wood. The sketches are also done by request of a customer and will have a varnish finish with a frame included
Well done to our prize winners but also to the other 6 companies that competed. The standard was exceptionally high and as a result all 9 companies were awarded with gift vouchers to celebrate their hard work and participation.
Also Congratulations to Holly Agnew & Rebecca Murphy who both also won awards at the Student Enterprise Awards Monaghan. Holly won 'Best Presentation' for her company and Rebecca won Runner Up in the 'Innovation Awards' for her company. Finally, congratulations to Rachel Cooper who won an Intergenerational Award, in a competition led by the Age-Friendly University Office in Dublin City University.
Scifest 2022 in DKIT
Largy College scoop top awards at Scifest 2022 in DKIT
Three 1st year students: Dara Courtney, Sean Clerkin & Joshua Brandon entered Scifest this year which took place in Dundalk IT on Tuesday 10th May. Schools from all around the region assembled in the Institute of Technology and set up their projects. The students then had to present their projects to several judges.
Dara, Sean and Joshua had a project entitled "A Four Seasons Photovoltaic Self-Charging Rover – the Mars PSR", on display on the day. We were absolutely delighted when it was announced that their project won the 'ESERO Discover Space Award'. Furthermore, the students also scooped one of the biggest awards 'The Scifest 2022 Runner-Up Best Project Award'! Despite Largy's successes in the past in this competition – it was a remarkable achievement this time for 1st years to win these awards. By winning the runner up award this means that the students now qualify to have their project considered for participation in the Scifest 2022 National Final which will be held on 25th November in the Marino Conference Centre in Dublin. Some of the judge's comments on the day were: "very impressive well thought out project and was presented excellently", "very informed and well researched project" and "excellent prototyping and assembly".
As a group they all share one common interest and that is anything that is Earth and Space related! They decided to do a project in some way related to Mars – which seems to be the buzz 'go-to' planet now! Mars is one of the most explored bodies in our solar system, and it's the only planet where we have sent rovers to roam the alien landscape. What inspired them to make this vehicle was the current expedition of the NASA Perseverance Mars Rover.
The students have been working on the Mars PSR for months and started by designing and making a protype using equipment found at home or in the lab. Then the final design was completed on Solidworks. They decided to use solar cells on this design. Solar energy is often used to power space missions because it is the only source of energy that does not need to be launched with the spacecraft and can power the spacecraft for several years. While relying on solar panels may seem risky in such a dusty environment on Mars but doing so lessens the amount of mass at launch, lowering cost and complication for the mission and this is why they decided to use solar cells. It was decided that they needed to make some type of a vacuum system that will blow off the dust that clogs around the moving parts. NASA have had limited success themselves with this idea but the students wanted to try something anyway and made various protypes of hoover systems that could attach to a Mars Rover!
They also made a base from Papier Mache that was the same colour as the surface of Mars and they added some coloured sand to give a close resemblance to the surface of Mars as possible. The Rover is built with materials that will not rust on Mars and it is light weight and will be easily transported to Mars if it were to be a full-scale model. The solar panels were facing all sides for the most sunlight exposure. It's a 4 season Photovoltaic panel rover so it can take energy from the sun all Martian -year-round.
Best of luck to Dara, Joshua and Sean if they get through to the National Final. They will be working on their project over the summer months and they should know by October if they have been selected. Excellent achievement – well done!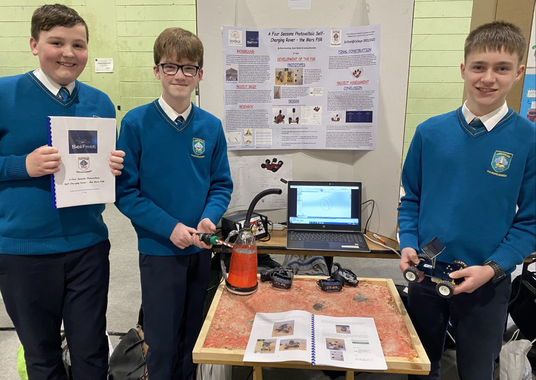 3D Virtual Tour
Attention Parents and Students for the September 2021 Intake to Largy College. We have now launched our new website, Promotional video (ON HOME PAGE OF WEBSITE)- and now a groundbreaking 360 Virtual tour of our modern, state of the art facilities.
Delphi
Delphi Adventure Resort
50 TY and 5th Year students enjoyed a fantastic 3-day residential trip to Delphi Adventure Resort from Wednesday 27th April – Friday 29th April. Delphi Resort is Ireland's leading outdoor activity resort, it is set on a 300 acre site located in the heart of the scenically breath-taking Delphi Valley, near Leenane, Co. Galway, Ireland. Our students participated in activities such as High Ropes, Aerial Trek, Ziplining and Kayaking. The students faced their fears while thoroughly enjoying the experience. The glorious weather was an added bonus to an action-packed wonderful stay.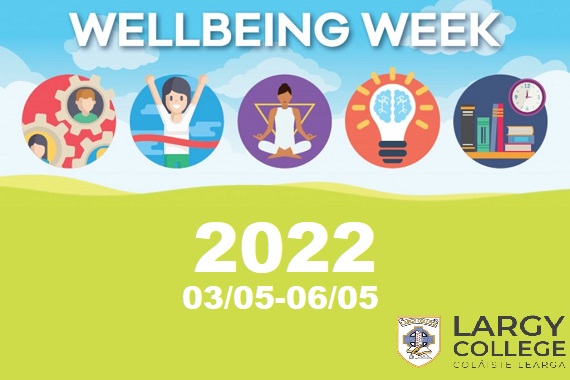 Wellbeing Week
Largy College Wellbeing Week 2022
Largy College's Prefect Council organised our first "Wellbeing Week" from 4th - 7th May. The purpose of this week was to promote a positive sense of wellbeing for students and staff.
The week started off with "Thankful Tuesday" as students all contributed to a wall display where they listed the things in their lives that they are most grateful for.
Our 3rd Year students had a "Cake and Chats" session in the afternoon while our 5th Years had an indoor picnic. Some of our 5th Year Prefects also played music over the intercom system for the week at lunchtime.
"Wellness Wednesday" saw our 2nd Year students being grouped up (outside their normal friendship groups) to go for a walk and get to know other people within their year a little better. Our 1st Years practiced some mindful colouring and impressed us all with their art work. As it was our shorter school day the Home Economics department kindly shared cooking videos online for students to carry out at home in the afternoon if they wished.
On "Triumphant Thursday" our LCA students took a break from their upcoming interviews, tasks and exams to have some downtime and treats. Four of our TYP students Kylah, Kayla, Sarah and Megan taught our 1st Years the "Saturday Night" dance which they performed as an entire group. An additional dance was performed by 1st Years Chloe, Jessica, Kate and Ruth. Well done to all for this, both videos can be seen on our website.
Wellbeing Week concluded with "Feel Good Friday", students could nominate a friend (anonymously) who had helped or supported them. There were awards for each year group in this category.
Our TYP students had the opportunity to reflect over the great experiences they have had this year over a cuppa and some treats. Finally, our 6th Year students got a break from their upcoming exams with an afternoon tea.
This was the inaugural year of "Wellbeing Week" in Largy College and hopefully this will be an annual event that we can build on in the years ahead. Thank you to all staff and students for their help in the organising of the week.
Muffins: https://web.microsoftstream.com/video/199aea4a-4982-42b9-ba0a-571dee8d6767
Brown Bread: https://web.microsoftstream.com/video/a83eef9f-f30c-44a6-9bf6-4e08bbe22e0e
Chicken Curry:
https://drive.google.com/file/d/12WTZIp-Uidq0QsEu9UOzLTVHe-f5UTWM/view
https://drive.google.com/file/d/12XdqCWddyYDZmQASku4rpVy1wDPeFuLf/view
Omeltte: https://drive.google.com/file/d/12WIE1cVuzT2mWzdnFXdICRUCV-jA-CPT/view
Sausage Rolls: https://web.microsoftstream.com/video/57c3cca2-5969-47fd-8924-6cf46fc7f4b1
Largy 5K
Student Enterprise Awards Success
Congratulations to Holly Agnew and Rebecca Murphy who both won awards at the Student Enterprise Awards Monaghan.
Holly won 'Best Presentation' with her company Sweet Sensations and Rebecca won Runner Up in the 'Innovation Awards' which was sponsored by Monaghan County Fund.
Sweet Sensations
John McEntegart (Monaghan LEO), Holly Agnew, Pamela Kerr (Monaghan LEO) and Mr Curran
OakCrafts
John McEntegart (Monaghan LEO), Rebecca Murphy, Pamela Kerr (Monaghan LEO) and Mr Curran
Keep up to date with our Enterprise Pragramme Here: https://largy.ie/index.php/transition-year/enterprise
School Calendar 2022
Now Enrolling for Special Class
Now Enrolling for Special Class for autism, starting September 2022. There are 6 places availible. Please find the Admissions' Policy and Application forms below.
Admissions' Policy addendum for Special Class: Addendum_to_the_Admissions_Policy.pdf
Please find the link for Form A and Form B below:
Form A: Largy_College_Application_Form_Form_1_-_Amended_for_Special_Class.pdf
Form B: Largy_College_Acceptance_Form_Form_2_Amended_for_Special_Class.pdf
Photography Competition Winner Christmas
1. Mr. Seamus Roche
2. Leah Murphy
3. Ben Rooney
4. Chloe Wall
5. Ellen McCarron
Photography Competition Winner Announced
We would like to thank all if those who entered the first ever Largy Photography Competition! In total there were over 100 photo's entered into the competition. The theme of Autumn was well representated in all photos. The standard was very high and the judges found it very hard to narrow it down to one winner. Below you can find the top 5 pictures submitted and a quick video of all enteries. Follow our competition here: https://largy.ie/index.php/extra-curricular/photography-competition
1. Bethan O'Neill
2. Pauric O'Reilly
3. Fionn McFadden
4. Killian McFadden
5. Dervla Flanagan
All entries:
Open Night
Open night for Largy College will take place this Thursday the 21st of October, starting at 7pm
Largy College Annual Admissions Notice
Please find the link for Form A and Form B below:
Form A: Largy_College_Application_Form_Form_1.pdf
Leaving Certificate Results 2021
Congratulations to all Largy College Leaving Certificate and LCA2 students who received their results on Friday 3rd September 2021.
7% of students achieved over 600 points while 27% achieved over 500 points. Ruth Madden, daughter of Irene and Paul Madden, The Diamond , Clones achieved the top result of 625 points in this year's Leaving Certificate.
The top result in LCA was achieved by Shane Duffy, son of Martin & Nicole Duffy, Drumavaddy, Drum, Co. Monaghan. We are extremely proud of all our Leaving certificate and LCA students who navigated their way through a very challenging year. The excellent results reflect both the ability and dedication that this cohort of students have demonstrated consistently over the last six years. It was particularly satisfying this year as the majority of students engaged either partially or fully with sitting the examinations – so well done to all.
A special thanks to the teaching staff, in particular, for their thorough and meticulous application to the preparation of students for all examinations and the accredited grades process, to school management, our Board of Management and the loyal support from parents.
To everyone in the class of 2021, best wishes and continued success in the future.
Pictured (1) above is Ruth Madden, top Leaving Certificate Result 2021 with School Principal, Ms Sharon Magennis.
Pictured (2) above are students who achieved over 600 points in their Leaving Certificate, L to R: Caitlin Connolly, Ruth Madden and Carla Rafferty.
Pictured (3) above is Shane Duffy, top LCA student 2021 with L to R: Ms Sherry (LCA co-ordinator) Ms Magennis and Ms Mc Mahon (Year Head)
Happy Christmas from Largy
Greetings from our bubble to yours!! Super impressed students and staff. Well done Ms Magennis (Ms. Klaus), Mr Killen (Santa Klaus), Mary our secretary (Christmas Tree) and our TY Elves: Abbie Mulligan, Ciara Quigley, Josh Brown and Daniel McKiernan.
Here is a quick video of the visit from the North Pole.
Also a huge thank you to TY students Luca, Augusta, Jule and Kayla for filming and editing the video. .
Showtime 2020
Due to current restrictions, the thinking caps were out in full force to come up with a way to have Showtime this year. As luck would have it last year marked 10 years since the inception of the show so it was decided to have a "Champion of Champions" winner. While it was not possible to have the acts back in school, we were in the lucky position to have high quality footage of the ten winners due to the skill and expertise of Panic -Hire and Murphy Video Service.
We were delighted to be able to give our Head and Deputy Head Prefects, Caitlin Connolly and Jim McGuirk, an opportunity to present the show, though through a very different platform. Thanks to the help of Rory McMahon and Matthew Macklin we were able to post a link to the show on Clones Notice Boards. This gave the public an opportunity to vote on who their favourite winning act had been from the last 10 years.
You can watch the show here:
Voting
Online vote accounted for 50% of the tally while the other 50% was comprised of votes from the current student body. Students got to view the show on Friday afternoon and then voted for their favourite.
Watch the results here:
While we hope to return to the traditional format next year, this version ensured that the Showtime tradition continued.
2nd Place - Katie Boyle and Catherine Sheridan
1st Place - Reeling in the Years
Largy Admissions
There will be no onsite Open Night on 12th November, in place of this we have launched this new website.
LEAVING CERT RESULTS 2020
Congratulations to all Largy College Leaving Certificate and LCA 2 students who received their results on Monday 7th September 2020. 17% of students achieved over 500 points. Jenny Freeman, daughter of Gabrielle and the late Martin Freeman, Newtownbutler Road, Clones achieved the top result in this year's Leaving Certificate.
The excellent results reflect both the ability and dedication that this cohort of students have demonstrated consistently over the last six years. A special thanks to the teaching staff, in particular, for their thorough and meticulous application to the calculated grades process, to school management, our Board of Management, Board of Governors and the unwavering support from parents.
To everyone in the class of 2020, best wishes and continued success in the future.
Senior Prefects 2020
Well done to our seven 6th Year students on becoming Senior Prefects. A special congratulations to our new Head Prefect, Caitlin Connolly and our Deputy Head Prefect, Jim McGuirk. In the context of schools, a prefect is a student who has been given designated responsibilities in the school, similar to the responsibilities given to a hall monitor or safety patrol members.
Prefects have numerous roles that they execute here at Largy, such as acting as a bridge between school teachers and students. Prefects are also tasked with the responsibility of organising activities in collaboration with teachers and promoting positive behaviour in the school community.
World Book Online COVID-19
Excellent resource for primary and post primary learners. Stay safe everyone.
Armagh Planetarium
Largy College 2nd Year Science students were selected to promote the new Junior Cycle Science Course in Armagh Planetarium.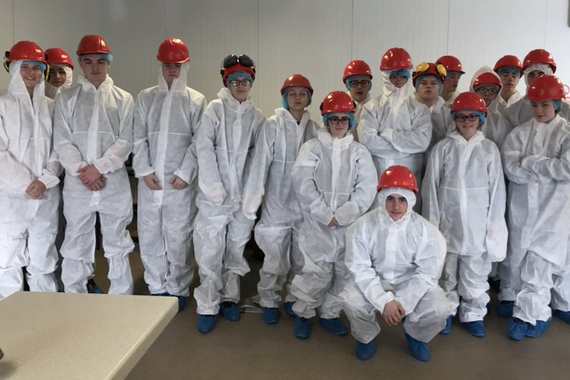 Skills @ Work
TY and LCA students enjoyed an informative and interesting site visit to ABP Food Group Factory, Clones under the Skills@Work Programme. Thank you to all staff at ABP who made us feel so welcome. @AbpFoods
Mental Health Award
On 11th May 2017 students from Largy College took the top prize, the Gold Award, and were named Young Social Innovators of the Year 2017 at the annual award ceremony in Dublin's Convention Centre. Their project, entitled "Mend a Mind", aimed to raise awareness on the subject of mental health. Largy College are the only school in Ireland to win this prestigious award on two separate occasions.
2021 Kenwood Young Baker
Well done to Eimear McMahon (3rd year) and Sean Boyle (1st year) on their entry to the 2021 Kenwood Young baker of the year. Eimear baked and decorated her delicious blue cake with Kinder Buenos, smarties, twix, twirl, star and a few other treats. Seans cake was decorated with Unicorns, Rainbows and a witches hat. The 2021 theme for the competetion is "Dreams" which both cakes desplayed beautifully. Thanks to Ms. McLoughlin and Ms. Lynch for their support and encouragement.
Un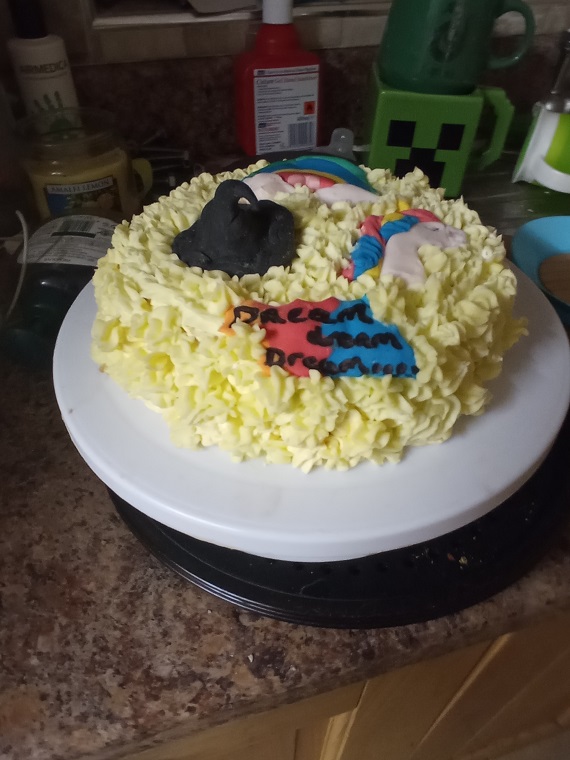 1st Year History trip to Historical Sites
On the 12th of October, First Year History students, accompanied by their teachers, Ms. Smith and Ms. Mc Groary , went on a short walk to one of the most historical sites in Clones.
The Round Tower, which was built in the 10th Century, originally stood at 23 metres, including the conical cap, which is now sadly missing. It was built from sandstone and there were four storeys, including the bell storey. Each storey had a single window, all of which remain.
The students observed how skilled the monks were and especially, how good they were at working with stone, at a time when there was no machinery or even cement!
They also saw the tomb shrine of St. Tiernach, who of course left his mark in many places in Clones, most notably, St. Tiernach's Park, the home of the Ulster Final.
The students enjoyed their trip back in time to early Christian Ireland and are most grateful to have such important historical sites on their doorstep.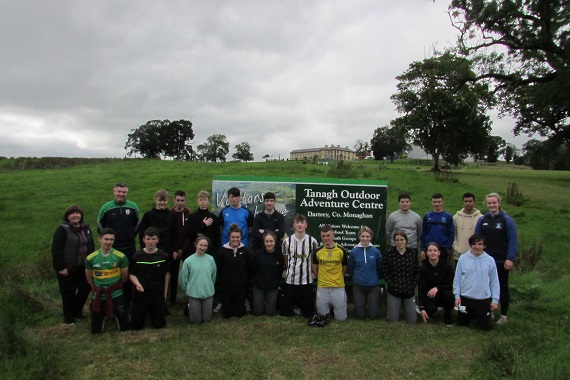 2nd year Tanagh Trip
2nd year Tanagh Trip with Ms Lyons, Mr. Donnellan, Ms Myers and Ms. McLoughlin. A fun time was had by all.
Subcategories
The PE department in Largy College offers pupils the opportunity to experience a diverse range of activities which enables pupils to fully develop their range of physical, analytical and social skills. Over the course of their school life students will develop lifelong skills and a knowledge in all strands of PE. These include: Gymnastics, Dance, Net and Field Games, Invasion Games, Outdoor Adventure and Athletics.
Students can take part in a diverse range of extra-curricular activities such as Gaelic Football, Basketball, Athletics, Soccer, Futsol, Volleyball and Handball.