Largy College Sport Dept.
Largy College: Winners of the Senior Shield at ETB Sports Day 2019 – Third Year in a Row
GAA in Largy
Boys' Football
Largy College has a strong history of success in Boys' Gaelic Football. The 2018/19 season was a very successful year for the u-14 team who came out on top of their group. They progress to the quarter finals of this competition but were narrowly beaten. This u14 team showed great enthusiasim and talent and we aim to develop this team further as they progress through Largy College. These boys take a strength and conditioning session every Friday lunchtime in conjunction with Monaghan GAA. The upgrading of our sports facilities and the addition of the new handball wall are an excellent asset to all sports students in the school and in their PE classes.
U14 Boys' Team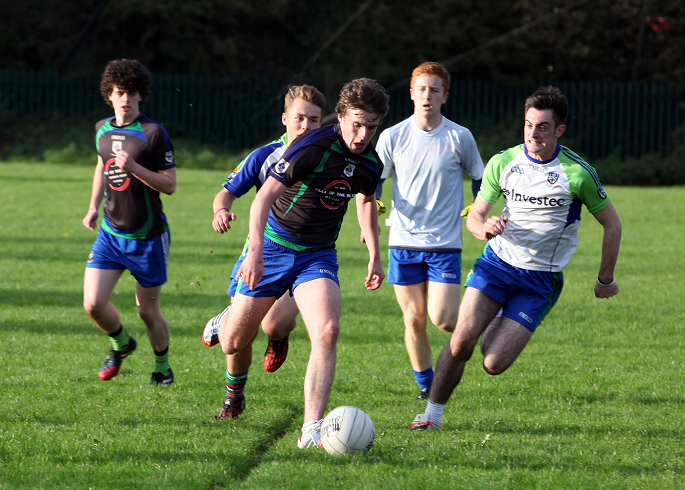 Ladies Football
Largy College has a strong tradition of Ladies Football in the school and this is continually growing stronger. Our girls compete at Ulster Level in all grades U-14, U-16 and U-20.
2019 was a very successful year for our girls' teams with our U-20 team winning the U-20 D Ulster Championship. This brought great excitement to our school. The girls beat St Pat's Keady in the final. Our school also made history this year when one of our 6th Year students, Maeve Monaghan received an Ulster Schools All Star, the first in the history of Largy College.
Owing to the successes of last year, the girls now will play at 'C' grade in all age groups.
Due to the Coronavirus all sports' competitions are currently on hold but we hope to resume with some football after Christmas - in accordance with Public health advice.
In Largy College we have a high calibre of talented Sportswomen many of whom are part of the Monaghan County Underage teams. It is great to see our girls representing the school at this level. Last Year we had three students who enjoyed Ulster Final success with Monaghan Minor Ladies as well as students on the U-14, U-15, U-16 and Senior teams.
Basketball
Girls' Basketball
In Largy College basketball is a great sport to get involved in. All girls' basketball teams have moved up to the C group due to recent successes.The Largy College girls' basketball teams compete in the North Each Regional Basketball competitions in a range of age groups including 1st year, 2nd year, Cadet and Senior. Last year our Senior basketball had a great year and completed their year by getting to a north east quarter final. Our 2nd year team had even greater success winning all of their group games. This resulted in this team reaching a group C semi-final. In this academic year of 2019 our cadet and senior teams have got their basketball campaign off to a great start, with each of them playing their first group game. The cadette girls had a brilliant outcome winning their first group game of the 2019/2020 season. The 1st and 2nd year basketball season did not get played due to the coronavirus. We hope to see some baskeball back on after Christmas.
Largy College is always on the lookout for new and up and coming basketball players and encourages girls of all ages to get involved in a great sport. We are looking forward to a bouncing year of success!
Boys' Basketball
The boys in Largy College compete in the North East Regional Basketball competitions in a number of age groups- 1st, 2nd Year, U-16 and U-19. The Under 16 team reached the quarter final stages of the competition demonstrating great fight and determination in the game.
Athletics
Students in Largy College participate in both cross country and track events throughout the school year.
We participate in the ETB Sports Day each year competing against all the other ETB schools in Co Monaghan. Largy College won the ETB Senior Shield in 2019 for the 3rd year in a row. Due to the pandemic, no event took place in 2020.
Our 4th Year student Molly Coffey O'Connor won a Gold medal in the Discuss in the All Ireland Schools Athletics Competition. A fantastic achievement by Molly.
Amy Jo Kierans secured 3rd place in the Ulster Schools Athletics Multi Event.
Emily Dawes took part in the Ulster Schools Cross Country event, coming 10th, she then went on to compete in the All Ireland Schools Cross Country where she came 22nd out of 60 participants.
Due to the Coronavirus, athletics events are currently on hold, but hopefully we will see these events resuming in early 2021.
Annual Largy 5km Run
Largy College organises an annual 5km Run which is always a huge success providing great enjoyment to both staff and students. The run is completed around the town of Clones. We have prizes for different categories: 1st Year Boys and Girls, Junior Boys and Girls, Senior Boys and Girls, Male Teacher and Female Teacher Awards. All proceeds from the 5km run has been invested in upgrading our gym facilities. This new equipment will enhance all aspects of strength and conditioning in addition to general fitness.